Our New Tire Shop Serving Philomath, Corvallis, And Much More.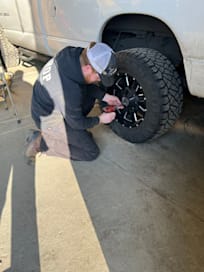 Welcome to The Shop in Philomath: Your Premier Tire Destination in Benton County
Discover a new standard of tire excellence at The Shop, serving Philomath, Corvallis, and beyond. As Benton County's top tire destination, we offer a comprehensive range of top-quality tires and expert services, ensuring your driving experience is nothing short of exceptional.
1. Tire Shop Philomath - Elevating Your Tire Experience
Explore our Philomath store's extensive selection of high-quality tires, catering to the unique needs of every vehicle. Whether you're in search of all-weather, performance, or specialized treads, our tire experts are here to guide you. Make informed decisions that perfectly align with your driving style and vehicle requirements.
2. Tire Installation Corvallis - Where Professionalism Meets Precision
Your road safety starts with precise tire installation. Our skilled technicians are committed to flawlessly mounting your tires, ensuring optimal performance and safety. Utilizing state-of-the-art equipment, we make tire installation a seamless process, prioritizing excellence at every step.
3. Mastering Tire Pressure for a Smooth Ride
Maintaining the right tire pressure is paramount for a smooth and fuel-efficient journey. Rely on our experts for ideal tire pressure recommendations and valuable insights into its importance. Improper tire pressure can compromise safety and fuel efficiency, but with us, you'll experience the perfect balance for a hassle-free ride.
4. TPMS Repair - Your Safety, Our Priority
The Tire Pressure Monitoring System (TPMS) is your vigilant guardian. If your TPMS signals an issue, our skilled technicians promptly diagnose and repair the system. Ignoring TPMS problems can impact tire performance and safety – let us handle it with precision to keep you safe on the road.
At The Shop, we see your journey as just as important as your destination. With top-tier tire products, meticulous installation services, and a commitment to perfect tire pressure, we're not just a tire shop – we're your road partners.
Why Choose The Shop for Your Tires:
Expertise: Our mechanics bring years of industry experience, delivering top-tier tire services and solutions.
Quality Products: We offer tires from reputable brands, ensuring durability, performance, and safety.
Customer-Centric Approach: Your satisfaction is our driving force. We tailor our services to meet your specific requirements.
State-of-the-Art Facility: Equipped with the latest tools, our shop ensures efficient and precise tire installation and maintenance.
Affordable Excellence: Quality tire services without breaking the bank. Our competitive pricing makes top-quality tires and services accessible to all.
Experience driving like never before. Visit The Shop today and enter a world where safety, performance, and expertise converge. Your tires deserve the best, and that's precisely what we deliver.
The Shop Diesel and Auto Repair is your trusted destination for vehicle maintenance and repair in Philomath, Newport, Lewisburg, Wren, Blodgett, Corvallis, and Alsea, OR. Count on us for reliable service at various locations.
Contact Us Now to schedule your next tire installation, receive expert advice on tire pressure, or have your TPMS inspected and repaired by our seasoned professionals. Your satisfaction and safety drive us forward!
Warranty Options Available with all Tire Purchases
What Is Covered by this Warranty
This warranty covers the following types of repairs and services for 12-months or 12,000 miles(whichever comes first) subject to the exclusions listed on the warranty document:
Brake system including ABS

Steering/Suspension System Wheel bearings

CV joints/U-joints and driveshafts

Exhaust System

Ignition System, including modules and sensors

Fuel System Electrical system, including the starting and charging systems Air Conditioning, heating and climate control systems

Engine cooling system
This warranty covers the above repairs and services for 12-months or 12,000 miles (whichever comes first) subject to the exclusions listed on the warranty document available in our Office.
Other great services available include
Alignments and wheel balance
Nationwide Roadside Assistance Plan with authorized service purchase
Eligible services include:
Towing
Lock out Services
Flat Tire Changing Assistance
Fuel Oil
Fluid Delivery services
Jump Starts
Call 1-888-925-5710 for roadside assistance.
Service secured through any other valid service provider is not eligible for
reimbursement under the plan.
Roadside Assistance is available 24/7, 365 days a year.
Service is available in the U.S. ana Canada.