Battery Services Philomath, OR
Car and Truck Battery Solution
Each fully backed by our worry-free, nationwide warranty, our car and truck batteries deliver the performance you deserve and the quality we've delivered since 1952. After all, there's a reason auto technicians recommend an Outrageously Dependable® battery. When you need to be somewhere, you need a car battery you can trust; you need an Interstate battery.
MTZ Line Car and Truck Batteries
The MTZ absorbed glass-mat (AGM) battery with Pure Matrix™ power feeds power-hungry vehicles while serving up powerful engine starts. With a 48-month free replacement warranty and longest-life performance, this battery delivers lasting power for today's high-accessory vehicles and motorists who use plug-ins such as DVD players, phone chargers and GPS devices.

MTX Line Car and Truck Batteries
The MTX line offers long life and premium performance as an absorbed glass-mat (AGM) battery or enhanced flooded battery (EFB) battery and a 36-month free replacement warranty. Get the right OE replacement battery for your start-stop vehicle, whether it came from the factory with an EFB battery or an AGM.
The MTX AGM from Interstate Batteries is an absorbed glass-mat battery using a revolutionary design that, instead of letting free-flowing liquid in a battery cell, suspends electrolyte in fiberglass mats. This design packs more lead into the car battery, giving you the longest life possible, while the battery itself is spill-proof and vibration resistant.
The MTX EFB from Interstate Batteries is designed like regular flooded batteries with critical differences that allow an EFB battery to outlast a regular battery between recharges. The Interstate EFB battery is only suitable as an OE replacement for vehicles requiring an EFB battery.
Deka The Better Motive Power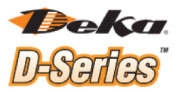 Keep your material moving with Deka. Our comprehensive product line delivers uninterrupted performance and cost savings for lift truck operators.
Durable and dependable for almost any motive power application. In addition to its versatility, it is designed to be utilized in both conventional and opportunity charging operations.
D-Series Flyer (0705)
D-Series I&O Manual (0628)
Maintenance-free gel design to save countless maintenance hours. Designed for either conventional and opportunity charging operations. Spillproof and leakproof.
Dominator Flyer (2298)
Dominator I&O Manual (0700)
Optimized for electrical conductivity and extended performance, it is built to last longer under rigorous fast charge conditions. Features heavy-duty intercell connectors, copper inserted posts, and dual cables and connectors.
Fastcharge Flyer (1611)
Fastcharge I&O Manual (0720)
Proper charging leads to peak productivity and life. We partner with the leading industry battery charging companies.
Your equipment needs to be in top health to keep it running. We offer regular maintenance programs in addition to helping with unplanned emergencies.
From battery handling to safety equipment we have your accessory needs.
At The Shop, Diesel, and Auto Repair, we offer a comprehensive range of battery services for all types of vehicles, including diesel trucks and passenger cars. Our experienced technicians ensure your battery is in optimal condition, keeping your vehicle running reliably. Our services include:
Battery Testing: Our technicians utilize advanced diagnostic equipment to accurately assess your battery's health, helping to prevent unexpected failures.
Replacement batteries are available from top manufacturers if yours is failing or is nearing the end of its useful life. This ensures dependable performance and longevity.
Along with battery maintenance, the alternator and voltage regulator in your vehicle's charging system are also thoroughly evaluated to make sure that every component is in excellent condition.
Battery Maintenance: We provide routine battery maintenance, such as cleaning terminals and checking electrolyte levels, to prolong your battery's life and prevent corrosion-related issues.
Choose The Shop, Diesel, and Auto Repair
Don't let a weak or failing battery disrupt your daily life – trust the experts at The Shop, Diesel, and Auto Repair to keep your vehicle's electrical system in top shape. Schedule an appointment with our skilled team in Philomath, Newport, Lewisburg, Wren, Blodgett, Corvallis, and Alsea, OR today for reliable and professional battery services.