The 8 best things to keep in your car in case of emergency
The fundamental principle of the Boy Scouts' guidebook was simple: Be prepared. When it comes to auto repair or car maintenance, this wisdom holds true. Life on the road can throw unexpected challenges your way, be it a flat tire in a remote area, a dead battery in the airport parking lot, or an abrupt encounter with a deer that sends you careening toward a body of water. Are you adequately equipped to handle these situations and ensure your safety? A carefully curated selection of essential car gear can be your lifeline in such emergencies, and this guide will help you navigate the world of auto repair and preparedness.
Approaching this task, you have two options. First, you can take the incremental approach, acquiring individual items that you deem essential or that you currently lack. Alternatively, you can opt for an all-encompassing emergency roadside kit. The latter offers a handy one-stop shop, but it might not quite fit your unique demands. Some crucial tools or supplies could be missing, or the kit might contain subpar, less effective alternatives.
In this guide, we'll begin by exploring the pre-packaged emergency kits, followed by a breakdown of the individual components you might want to consider—some of which may not even be included in the ready-made kits. Please note that while I haven't personally tested each product, all items featured here have received high praise from countless Amazon customers.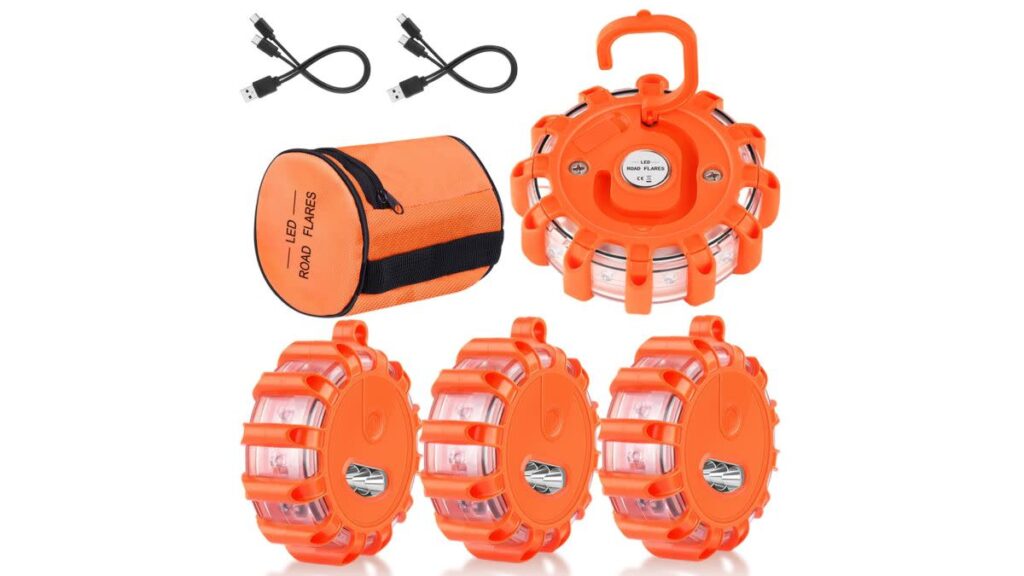 Vetoos Car Roadside Emergency Kit with Jumper Cables
While it might not encompass every conceivable need, this car repair-centric roadside emergency kit packs an impressive array of essentials. From jumper cables to essential repair tools and basic first-aid supplies, it has you covered for a variety of unexpected situations. Surprisingly, it goes above and beyond with some unexpected items, such as a safety whistle, a multifunctional folding shovel (serving as a saw, hoe, and pickax), and protective safety gloves. Additionally, the kit includes a hand-crank flashlight, roadside reflectors for visibility, an emergency blanket, and a reliable tow strap. However, you'll need to look into alternate possibilities, as described below, for supplies like flares, phone chargers, and a tire inflate.
Curtsod Rechargeable Headlamp, 2-Pack
In nearly every situation where a flashlight is essential, the experience can be vastly improved with the addition of a headlamp. The reason is simple: a conventional flashlight necessitates the use of one hand to hold it, or you'll need to place it on the ground, adjust the beam's angle, prevent it from rolling away, and so on. In contrast, a headlamp grants you hands-free illumination—all you require is a head to wear it on. This particular headlamp offers a versatile selection of twelve different lighting modes, including wide, narrow, and red beams, among others. Additionally, it has a handy motion-sensing on/off switch that is activated by waving your hand in front of it, and it has a waterproof build for increased longevity. Moreover, this set includes two headlamps, ensuring that both you and a companion have access to reliable lighting when needed.
Resqme Emergency 2-in-1 Keychain Car Escape Tool, 2-pack
While it's not a pleasant scenario to contemplate, the grim reality is that within seconds, you could find yourself in a life-threatening situation inside a vehicle, be it engulfed in flames or submerged underwater. In such dire circumstances, two critical obstacles might impede your escape: a jammed seat belt and a non-responsive door. Enter the Resqme (pronounced "res-q-me"), a clever device that combines a seat-belt cutting tool with a tempered glass window breaker. The latter is expertly engineered to swiftly shatter a car window with a single, straightforward jab. By attaching one of these to your keychain or placing it within easy reach from the driver's seat, you can significantly reduce the number of concerns in a high-stress emergency situation.
Tobfit 4-Pack Rechargeable LED Road Flares
Whether you're faced with the task of changing a flat tire or require a means to signal passing drivers for assistance, few options rival the effectiveness of a road flare. Particularly, one equipped with a ring of twelve powerful LEDs offering nine distinct illumination modes stands out. These innovative warning flares are not only vividly colored but also boast magnetic properties, reusability through recharging, and resistance to water. Additionally, they come with an integrated hook, ensuring practicality even when there's no magnetic surface available. What's more, there are three extra LEDs positioned on top, making them versatile for flashlight use as well. This set includes four of these flares, but you have the option to choose from sets of three, six, eight, or twelve as per your needs.
Abnoys Small Portable Phone Charger with Flashlight
Imagine a scenario where you're compelled to leave your car behind and embark on a quest for assistance, all while the sun sets. In this situation, you certainly wouldn't want to risk your phone's battery dying on you, but lugging around a bulky power brick isn't the most convenient option either. Enter this stylish and lightweight portable charger, which is suitable for both iPhone and Android users and has both Lightning and USB-C connections. It also has a built-in torch that may be brighter than the one on your phone. When you need light the most, it at the very least provides an additional source of illumination.
Blazin Bolt Rugged USB Rechargeable Lantern
When you find yourself in a situation where you're grappling with tire repairs or setting up a tent in the pitch-black darkness, having a versatile lantern that can be placed anywhere is a true lifesaver. This resilient, water-resistant lantern comes in three distinct lumen and battery configurations, each thoughtfully priced to suit your preferences. It emits a radiant 360-degree light, ensuring full coverage of your surroundings. Additionally, it doubles as a power bank, making it simple to conveniently recharge your phone or any other mobile device. With six operational modes, including a red light and flashing option, it offers a range of lighting choices to accommodate your specific needs.
VacLife VL798 Cordless Tire Inflator
Are you dealing with a potentially punctured tire or simply one that's lost some pressure? Regardless of the issue, the solution is inflating it, and that's where VacLife's portable air compressor comes into play, delivering swift and efficient results. This compact device operates on a rechargeable battery, equipped with a handy digital readout to display the current tire pressure and allow you to set it to the desired level effortlessly. Once it reaches the preset pressure, it automatically shuts off, ensuring accuracy and peace of mind. Additionally, this multifunctional item works as a torch and a power bank for your mobile devices. I recently evaluated a similar VacLife model and found it to be an exceptional accessory. While the VL798 model is slightly smaller with a marginally lower battery capacity, it appears to offer the same outstanding performance. Therefore, I wholeheartedly endorse its use and reliability.
DBPower Portable Car Jump Starter
A dead car battery can range from a mere inconvenience to a potentially life-threatening situation. To ensure that it always falls on the less severe end of the spectrum, it's essential to keep a portable jump starter at your disposal. Far superior to traditional jumper cables because you don't require a second vehicle, this nifty power brick possesses the capability to kick-start nearly any vehicle, including sizable pickup trucks. It has USB connections for charging your phone and other gadgets, and its LCD screen provides exact information about your power position. Additionally, it incorporates a flashlight, compass, and a convenient carrying case.It's important to note that there are a tonne of options available, many from unpopular businesses. While DBPower may not be a household name, they have a proven track record with years of experience, and I've personally used several of their products with great satisfaction.